Ballarini - Brenta 7 Pc Block Knife Set - 18540-007
Model Number: ZWIL-18540-007
Web Code: 4062297000305
Free Delivery Over $99*
Delivery estimates are calculated by taking the estimated shipping date and adding the transit time.
Have questions? Your phone number is never stored.
Description
Classic in a sophisticated wooden block. This is how the 7-piece BALLARINI Brenta knife block set is presented. This means you have everything you need to peel or cut your ingredients close at hand, as well as an attractive highlight in your kitchen. The blades of the high-quality knives are forged German stainless steel. They are sharpened by hand in the last step of production and so sharp that they delight any professional in the kitchen. They wait to be used, well protected and safely stored in the knife block. Thanks to the ergonomically designed handle and ideal balance, they also fit perfectly in the hand, making even hours of cutting effortless. The combination of high-quality steel for the blade and high-quality plastic for the knife handle is particularly easy to look after. Practical addition: robust household shears. Set Includes: 8" Chef Knife, 8" Bread Knife, 6" Slicing Knife, 5" Serrated Utility Knife, 3.5" Paring Knife, Multi-Purpose Kitchen Shear, Wood Knife Block.
Fabricated from high quality German stainless steel for durability and strength
Satin-finished blade is tempered and honed for long-lasting sharpness
Stylish forged bolster and full tang adds safety and balance
Traditional three-rivet synthetic resin handle is curved for comfort and extremely durable
Dishwasher safe, hand washing recommended
Fully guaranteed against defects in material and/or craftsmanship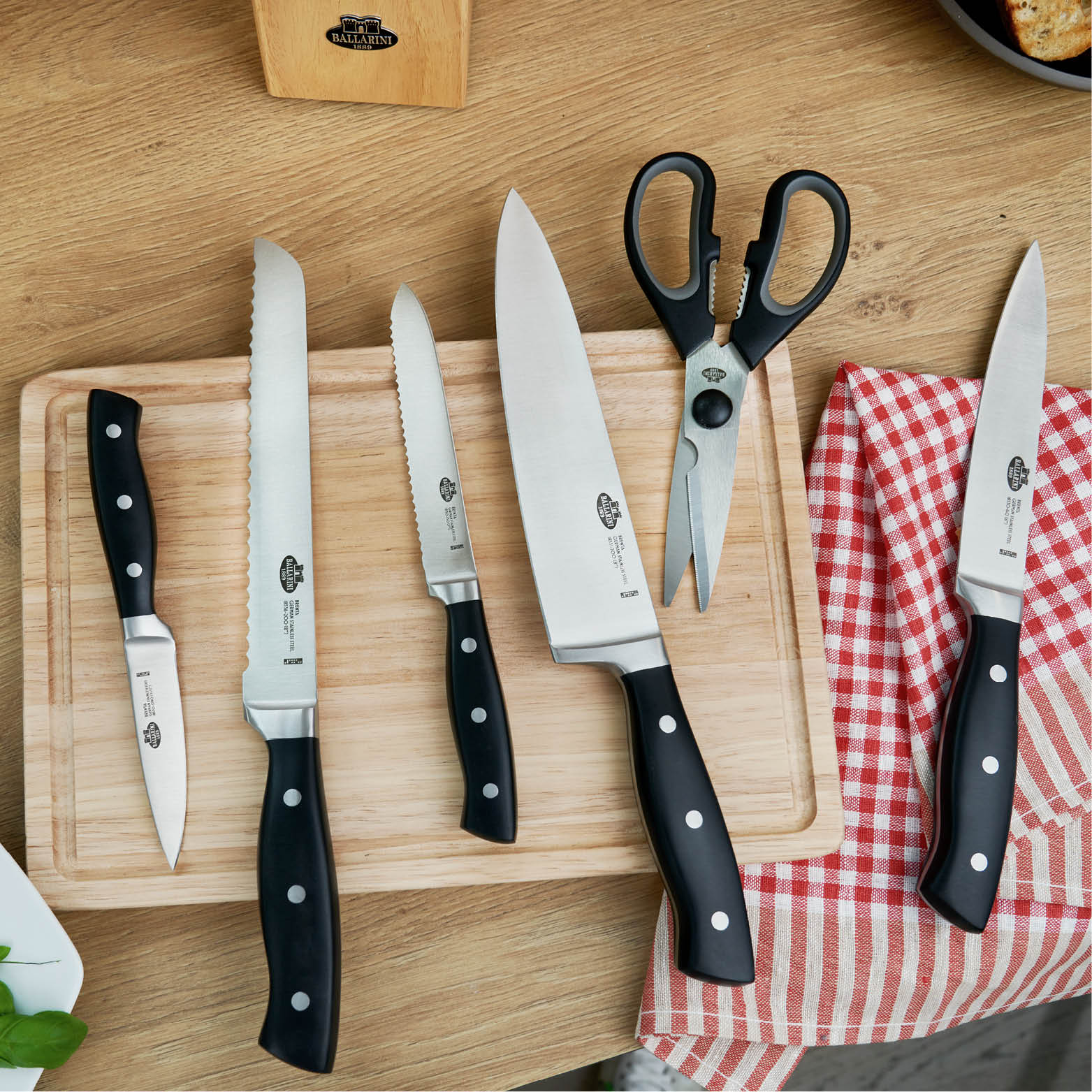 EVERYTHING CLOSE AT HAND
Beautifully sharp with long cutting edge retention. The high-quality knives with pleasantly designed plastic handles in the classic 3-rivet design are just as robust as the practical shears.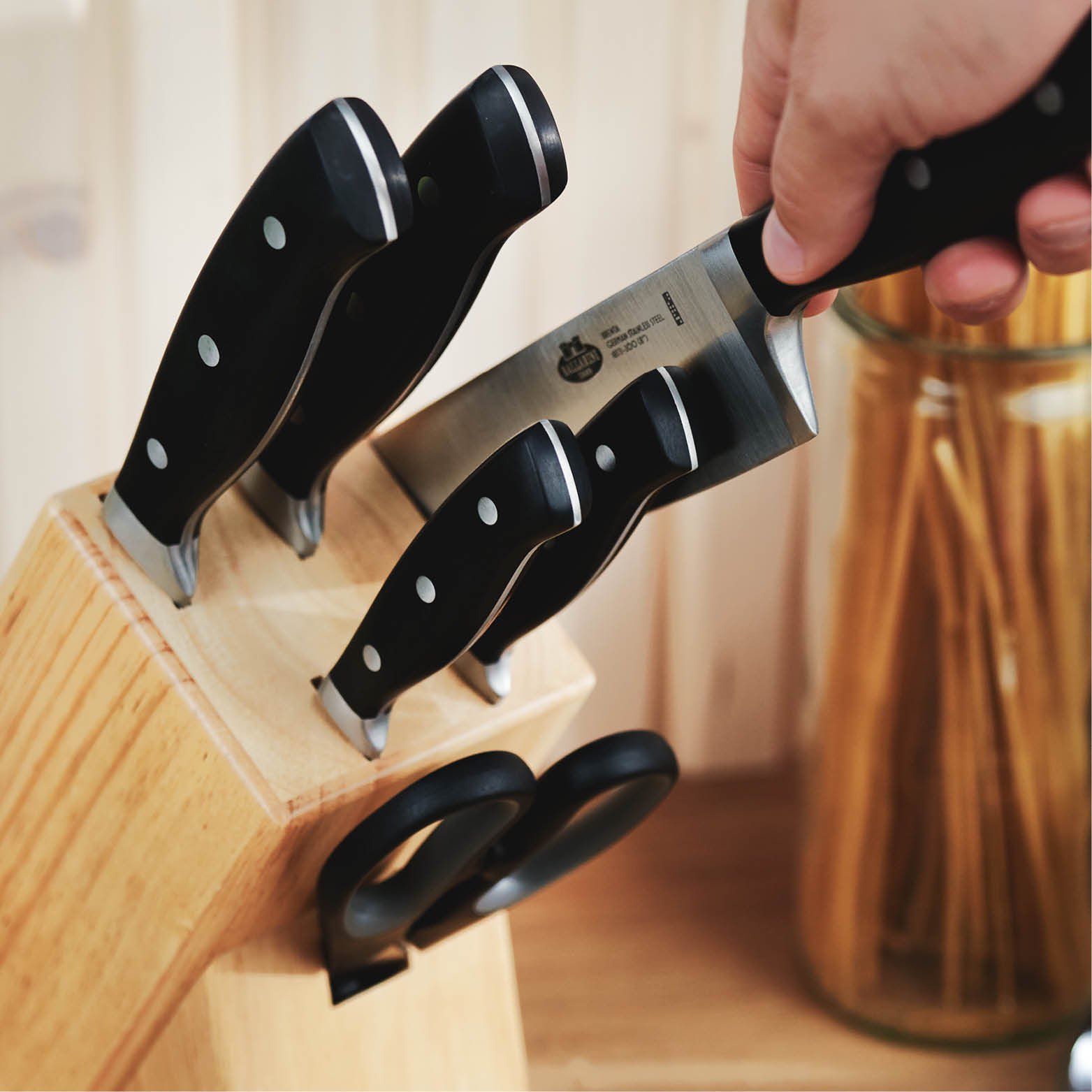 CLEVER COMBINATION
Everything you need: six sharp knives and a pair of shears, always close at hand and always safe in the knife block. The dark plastic handles create an attractive contrast to the light wood.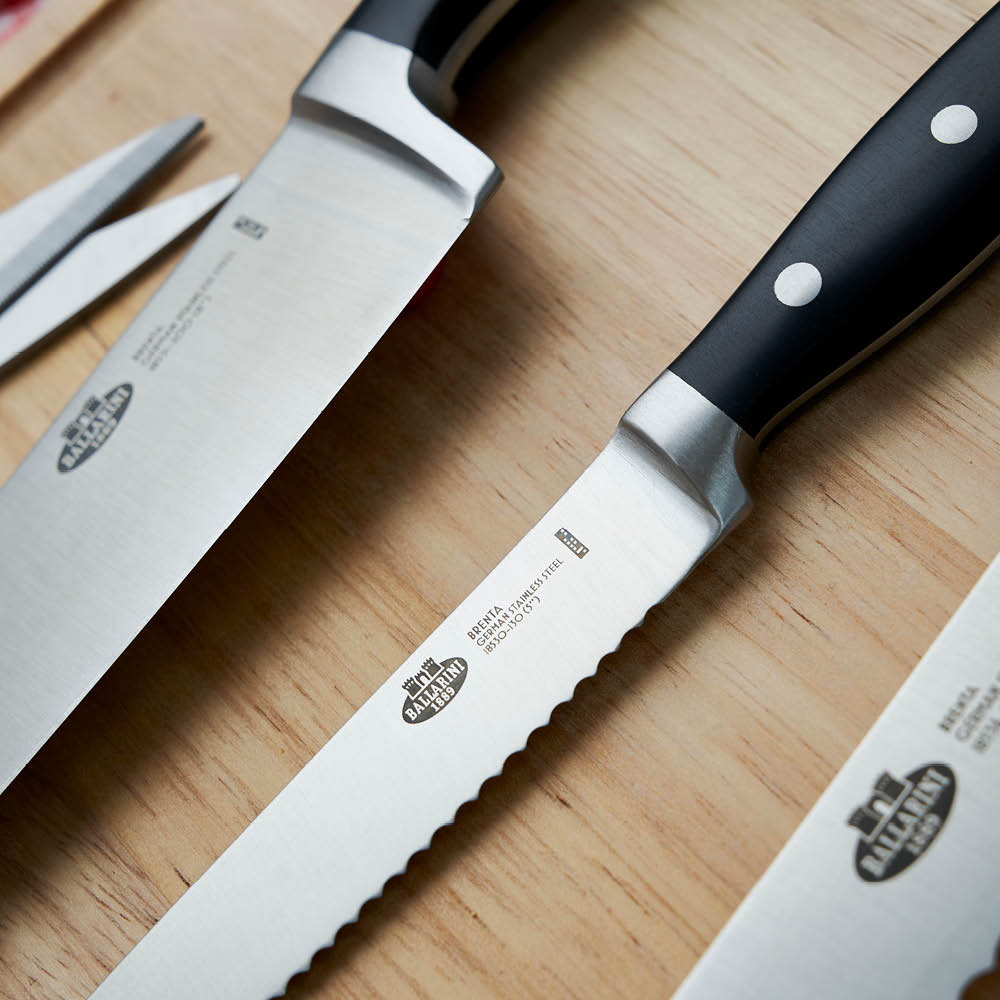 SUPERLATIVE QUALITY
The blades are forged from German stainless steel and are sharpened by hand in the final step for even greater sharpness. Perfectly balanced from the tip to the handle for safe cutting.
Specs
Details
Dishwasher Safe / Handwash Recommended
Warranty / Certifications
Ballarini is shipped free across Canada on orders over $99. Known for their top-tier non-stick performance, Ballarini has been imported from Italy since 1889. Despite their top-tier performance, you'll be happy to see Ballarini is priced affordably, the perfect choice for your entire kitchen's cookware needs!