Anolon - 12 Pc Advanced Hard Anodized Cookware Set Bronze - 84066
Anolon - 12 Pc Advanced Hard Anodized Cookware Set Bronze - 84066
Model Number: MEYE-84066
Web Code: 051153840661
Free Delivery Over $99*
Delivery estimates are calculated by taking the estimated shipping date and adding the transit time.
Have questions? Your phone number is never stored.
Description
Anolon Advanced Series
Hard-anodized construction provides efficient, even heat distribution; elegant tulip profile with distinctive bronze exteriors and chocolate interiors. Premium-quality, restaurant-tested PFOA-free nonstick is long lasting and metal utensil safe with superior food release and effortless cleanup. The cookware's Anolon SureGrip handles offer solid, comfortable grasp and are dual riveted for strength. Shatter-resistant glass lids retain heat and moisture during cooking; oven safe to 400°F. Lifetime Warranty.
Set includes: 1qt/0.9L/14cm open saucepan with spout, 2qt/1.9L/16cm saucepan, 3qt/2.8L/18cm saucepan, 8qt/7.6L/24cm stockpot, 3qt/2.8L/24cm saute pan, 8"/20cm open skillet, and 12"/30cm deep skillet with helper handler.
Dishwasher safe
Shatter-resistant glass lids
Oven safe up to 400°F
Heavy-duty hard-anodized aluminum
SureGrip rubberized handles
Nonstick
Metal utensil safe
Lifetime Warranty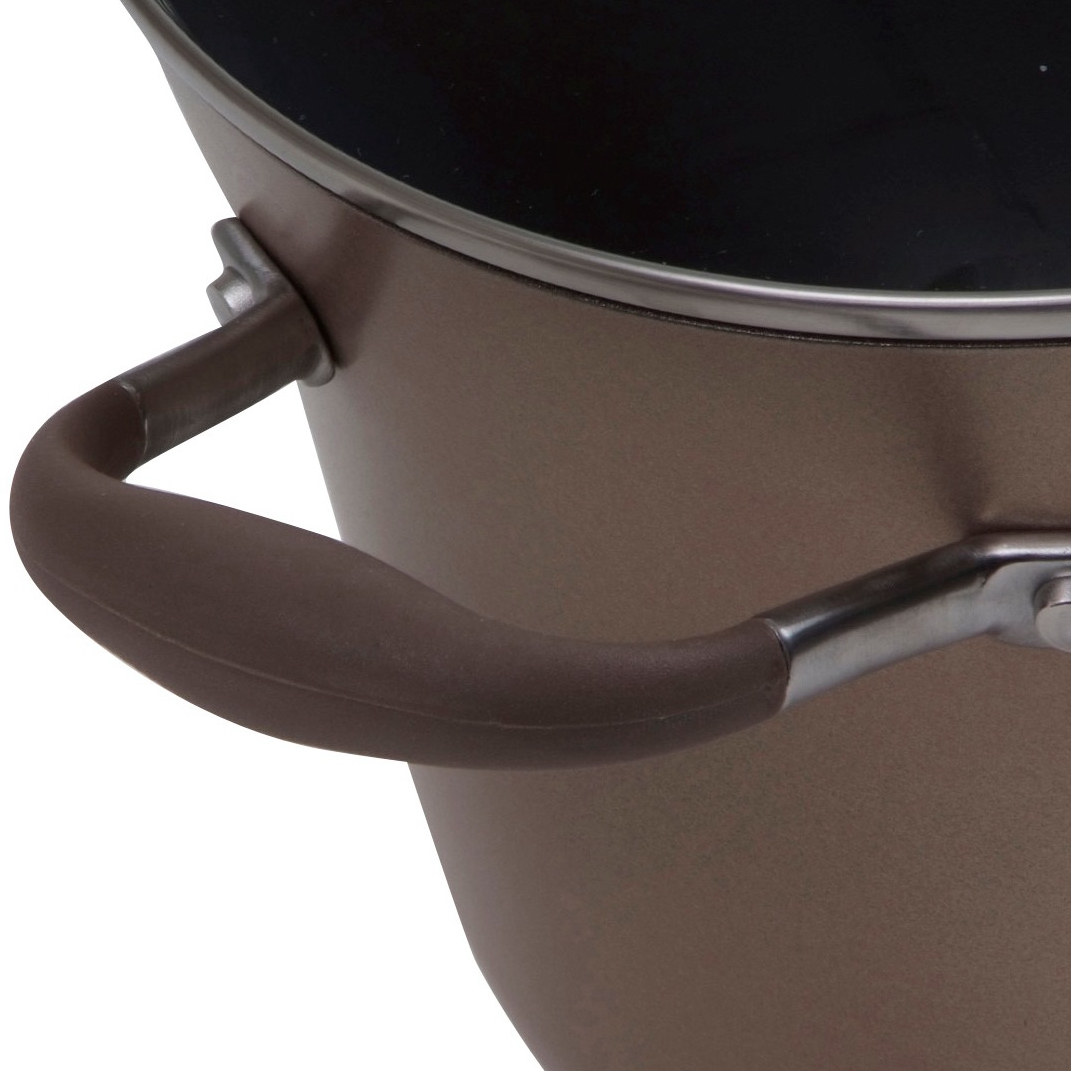 The Anolon Difference
The Anolon name comes from hard-anodized, and the suffix meaning "one". We added Santoprene a rubberized material to our some of our cookware handles for enhanced handhold & trademarked our innovative Anolon SureGrip handle.
Specs
Details
Hard-Anodized Aluminum & Shatter-Resistant Glass
Warranty / Certifications
Anolon is shipped free across Canada on orders over $99. The Anolon commitment to quality gourmet kitchenware began in 1984. Anolon - from hard-anodized, and the suffix meaning "one" - originally offered two hard-anodized nonstick cookware collections, one for the home chef, one for the more experienced cook. We soon recognized that home cooks require more than fine gourmet cookware, so we extended our product development and design standards to new collections.