Boker - Forge Bread Knife with Maple Handle - 03BO513
Model Number: boke-03BO513
Web Code: 788857033388
Free Delivery Over $99*
Delivery estimates are calculated by taking the estimated shipping date and adding the transit time.
Have questions? Your phone number is never stored.
Description
The Kitchen Knife line Boker Forge Wood combines innovative and dynamic designs with a classic material selection, at a premium quality level. The attractive, eye-catching design lines distinguish this series significantly from the masses of average kitchen knives, without being too flashy. In addition, the Boker Forge series is convincing with a very attractive price-performance ratio. The knives are made from X50CrMoV15 chrome-molybdenum-vanadium stainless steel, are ideally balanced and provide perfect handling due to the ergonomic grip design. The handle scales made of Maple Wood are durably combined with three stainless steel rivets and are attached to the Full Tang without rivets. The design of the blades, including the transition to the bolster, allows easy sharpening and ensures long-term perfect function for the knives in combination with proper care. Please only hand wash the knives, do not place in dishwasher. The knives are delivered in a high-quality gift box.
The Bread Knife is characterized by the special serration, as well as the very long blade. In addition to bread, other hard foods can also be cut very well. In contrast to the classic Kitchen Knife these are not crushed when cutting with the Bread Knife.
Premium quality
Attractive eye-catching design
Ideally balanced and provide perfect handling
Completely continuous tang

X50CrMoV15 chrome-molybdenum-vanadium stainless steel blade

Ergonomic grip design

Maple Wood handle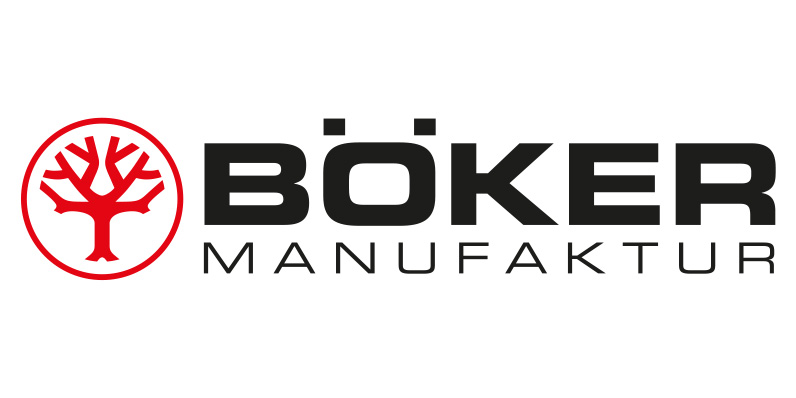 Böker Manufaktur
The history of the Boker Manufactory has been affected by eventful times. But one thing has always been the same in more than 150 years: Our passion and enthusiasm for extraordinary knives. The Boker Knife Manufactory has developed into a global innovation leader and one of the largest suppliers of Sporting Knives, Tactical Knives and Collector's Knives in Europe. The international success of our product range as well as the long tradition of our Knife Manufactory are both an incentive and an obligation for us to design high-quality and innovative knives in the future as well.
Specs
Warranty / Certifications
Boker is shipped free across Canada on orders over $99. Boker Knives of Solingen, Germany has been producing knives and tools for over a century and today they are one of the foremost knife makers in the world.